Standing From Left: Zulkefli Ahmad (General Manager, KTPC), Tuan Haji Saiful Anwar Bin Azmi (Secretary, Kulim Municipal Council) and Mr Iskandar Basha Bin Abdul Kadir (Managing Director, AGSB)
Sitting From Left: Tuan Haji Mohd Sahil Zabidi (Group Chief Executive Officer, KTPC), Dato' M. Murly (President and Group Chief Executive Offocer, Aspen (Group) Holdings Ltd) and Dato' Seri Nazir Ariff (Executive Deputy Chairman, Aspen (Group) Holdings Ltd)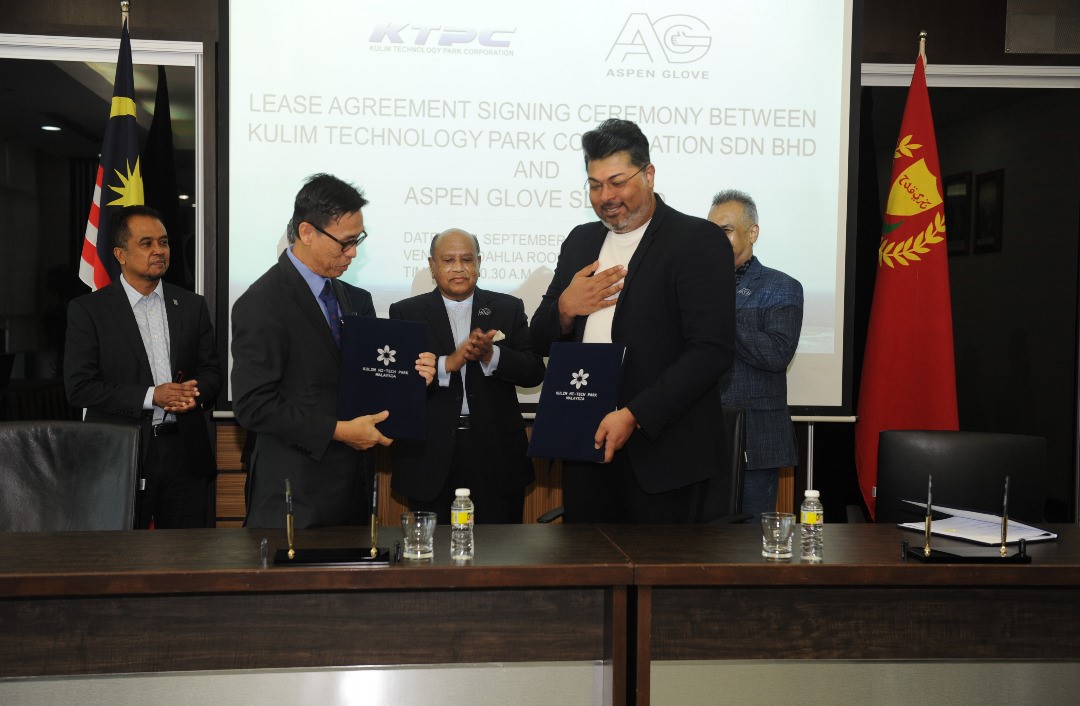 Exchange of Lease Agreement Between KTPC and AGSB
Date               : 1 September 2020
Venue            : Dahlia Room, KHTP Business Centre
Aspen Glove Sdn Bhd (AGSB) has on 1 September 2020 executed a lease agreement with Kulim Technology Park Corporation Sdn Bhd (KTPC) to lease an industrial land measuring 29.331 acres in Industrial Zone Phase 4.
AGSB intends to manufacture high-quality latex and nitrile gloves for the medical industry and industrial use for the export market.
AGSB has also obtained a First Right of Refusal from KTPC for the lease of a piece of an additional 37.031 acres for its future expansion plan.
Setting up in Kulim Hi-Tech Park (KHTP) provides a key advantage as the industrial lands in KHTP comes ready with high quality infrastructure, ready utilities of international standards up to the boundary of the plot of lands therein. AGSB's project will be facilitated on a fast-track basis.
KTPC, welcomes AGSB to KHTP.